profitable artist academy.
THE 5 MODULE COURSE DESIGNED TO HELP YOU BOOST YOUR ART SALES AND MAKE BANK WITH YOUR PAINTINGS.

YOU WANT TO BE A PROFITABLE ARTIST AND MAKE AN ACTUAL LIVING SELLING THE ART YOU WORK SO HARD TO CREATE.
BUT SO FAR, THAT'S JUST NOT HAPPENING.
LET ME KNOW IF ANY OF THIS SOUNDS FAMILIAR...
You've had some success in your art business but it's not consistent and you have no idea what to do next.
You aren't really sure what makes your art stand out from all the other artists out there and sometimes you feel like an imposter in the art world.
You are constantly second-guessing how you should price your art.
The thought of pitching and trying to sell your art to people makes you want to throw up a little.
You're starting to feel like making REAL money with your art might not be possible for you.
I GET IT. I'VE BEEN THERE. I PROMISE YOU, IT DOES NOT HAVE TO BE THIS HARD!
• SELLING YOUR ART WITH CONFIDENCE AT THE PRICE POINT YOU REQUEST. I'M TALKING NO HEAVY DISCOUNTS!

• GETTING SOUGHT OUT BY THE BEST CLIENTS WHO PAY YOU TO CREATE YOUR INCREDIBLE ART TO HANG ON THEIR WALLS WITH PRIDE.
• MAKING A 6-FIGURE INCOME (OR MORE) JUST SELLING YOUR ART. YES, THAT MEANS NO MORE SIDE HUSTLES OR OTHER JOBS TO PAY THE BILLS.
• GETTING PAID 10K FOR A SINGLE PAINTING.
• HAVING CROWDS ATTEND YOUR ART SHOWS.
• SEE YOUR ARTWORK HANG PROUDLY IN A CORPORATE SETTING.
I KNOW THIS IS POSSIBLE FOR YOU BECAUSE I'VE BEEN EXACTLY WHERE YOU ARE.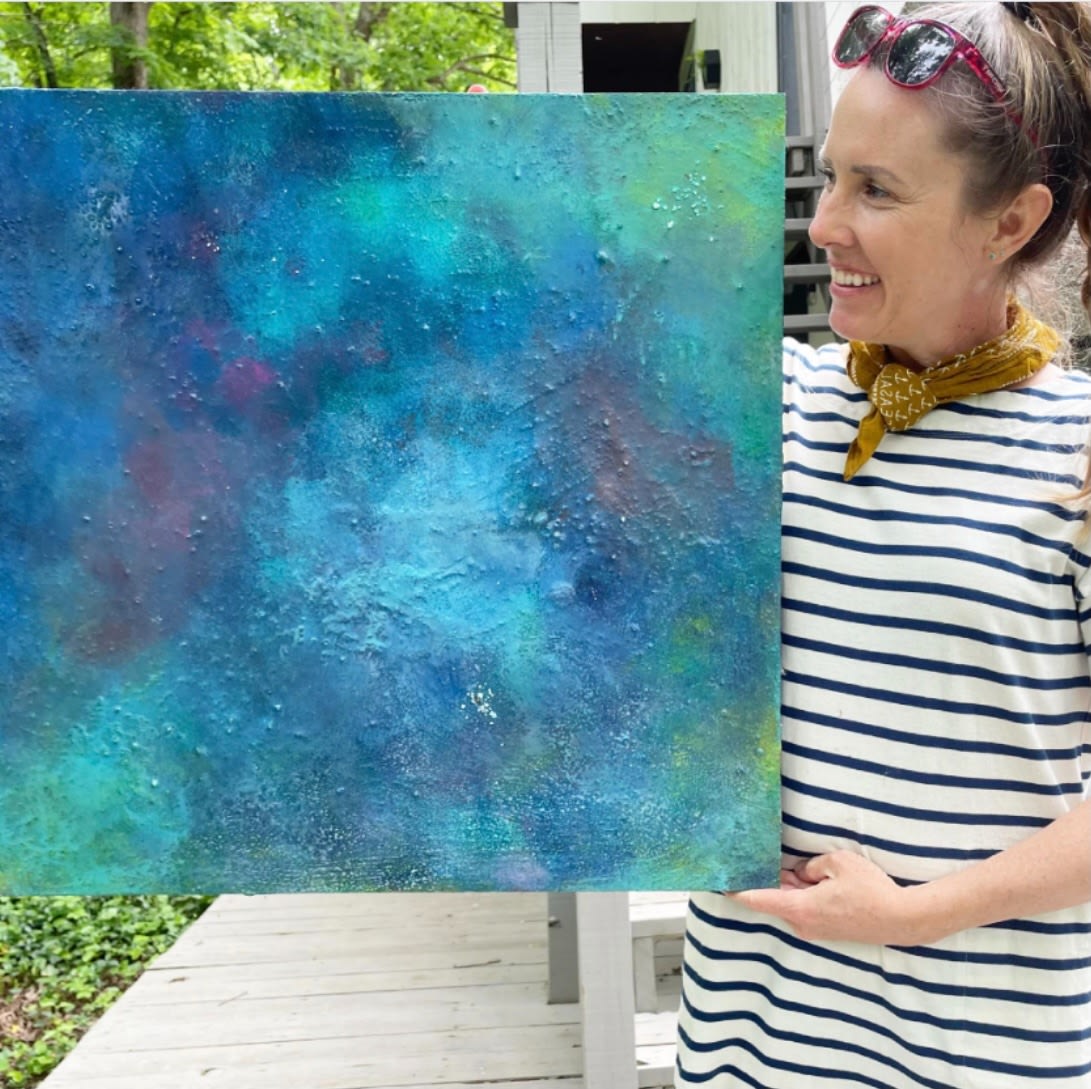 I was struggling to make it as an artist. I was also raising two little cubs and balancing how to be a single parent while my husband traveled for his job and we were living in a foreign country. In addition, I was diagnosed with stage 3 breast cancer. WHOA, that was a crazy wake-up call for me! I didn't even know if I had a tomorrow, so I knew I had to figure out how to go from starving artist to profitable artist pretty quickly!
FAST-FORWARD TO TODAY...

• I regularly sell my paintings for $10 k or more.
• My artwork is hung in the homes of Wall Street executives, HGTV star Kelli Ellis and former Clinique/Estee Lauder CEO, and many other private and corporate collections.
• I make over 100K a year selling my art.
• I am fully booked with commissions for the year.
• I've exhibited nationally and internationally and have been featured in many media publications like Print magazine, Missourian, KC Star, ComoLiving, and HGTV.

I found a way to make bank selling my art. After reaching my dreams as an artist, I knew I had to share everything I know with you so you can thrive as an artist as well!

INTRODUCING...
THE PROFITABLE ARTIST ACADEMY.
The 5 Module Course designed to help you boost your art sales and make bank with your paintings.
HERE IS WHAT THE COURSE INCLUDES...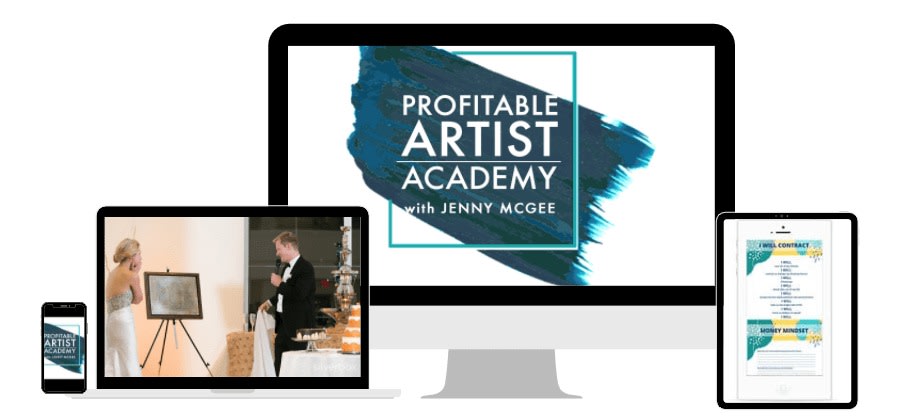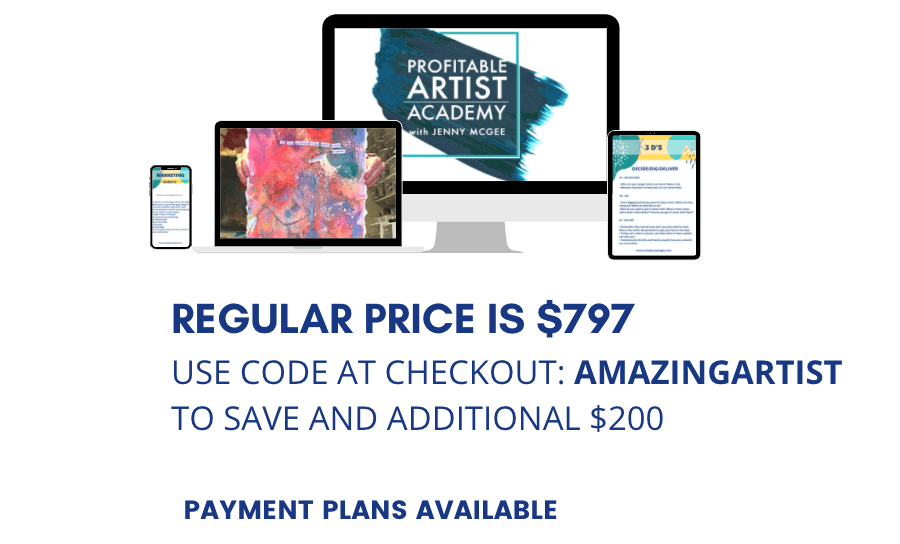 1. The 5 Value-packed Profitable Artist modules: get access to the exact methods, techniques. strategies and step-by-step processes to help you sell your art like crazy. ($5000 value)

2. Implementation Worksheets, Journaling Prompts: get access to custom worksheets and journal prompts to implement everything you learn and put it into practice immediately. ($10,000 value)

3. Sales Scripts: get access to the letter that landed me my first $10,000 painting sale.
4. Connection and Support: get direct access to me via email, FB, and Insta messenger. Plus a private, members-only Facebook Community.
PLUS YOU'LL ALSO GET THESE BONUSES!
Client Sales Contract Template - No more running your business at risk. Get access to the exact contract that I use to protect my art and business.
Email Templates That Convert - No more struggling to write emails to try and pitch your art. Get access to my high-quality, proven emails that will actually get your art sold.
Money Miracles EFT Tapping Sessions - No more starving artist mindset. Get access to 4 Tapping Sessions to help yo9u transform your money mindset so you can grow the profitable art business of your dreams.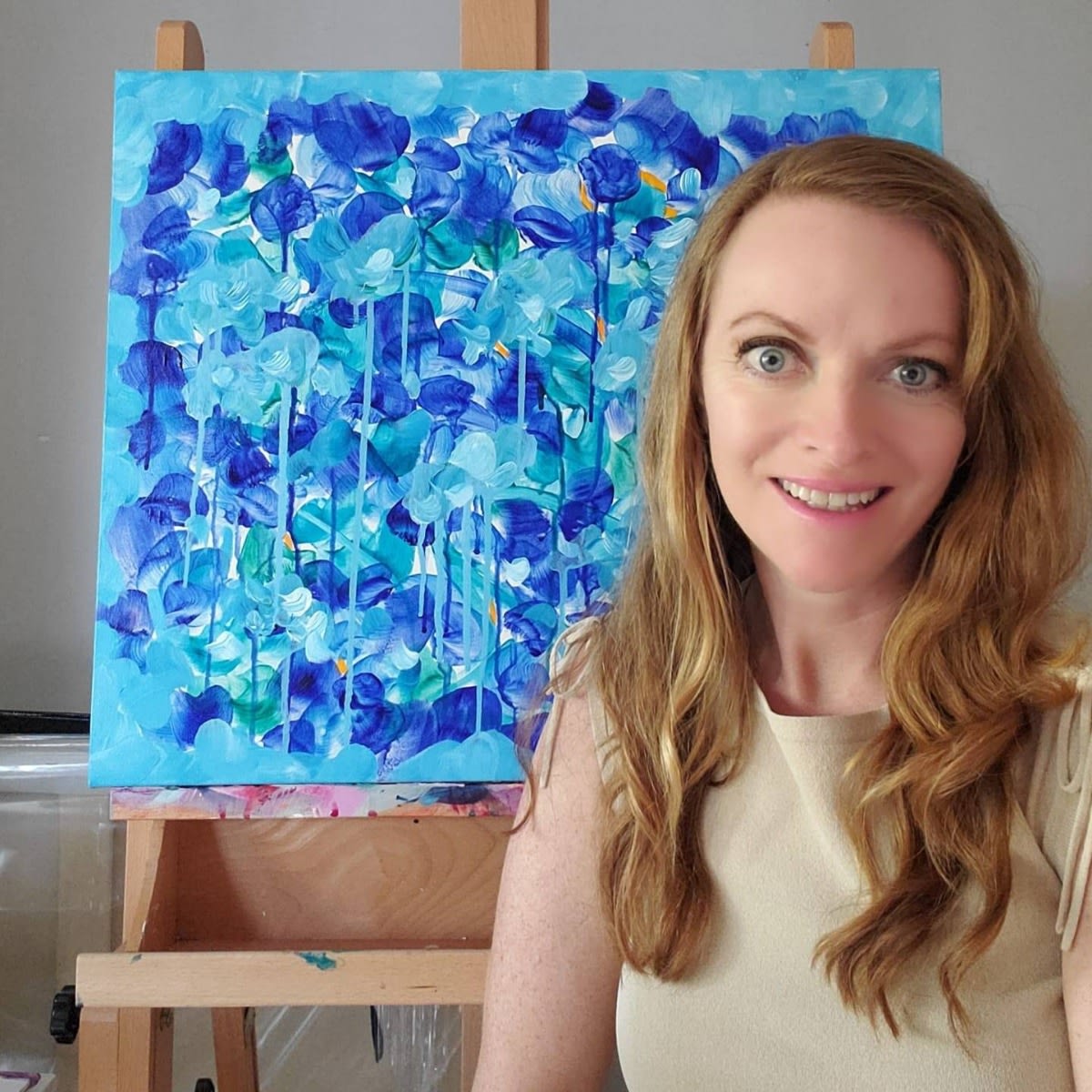 I found Jenny's course amazing and so unique compared to other art business courses I've taken. It offers so many effective tools for building a successful art business that most artists aren't even aware of, and they go beyond the outdated lessons we are taught still today. I haven't taken any courses like it. I feel like I have a big juicy secret. I'm very satisfied with the course and so glad I found it! It's the perfect blend of mindset work for someone super sensitive and insecure about selling their art like I am, and more formal marketing lessons. I try not to buy every program I come across, but I felt Jenny's could offer something more that was missing, some unique mindset and marketing approaches.
Silvia K - artist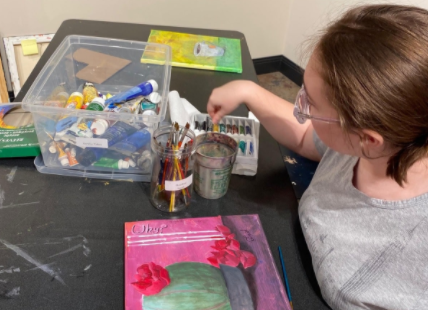 Jenny McGee immediately put me at ease with her welcoming and knowledgeable personality. She is extremely experienced and has helped my confidence grow and my art career develop.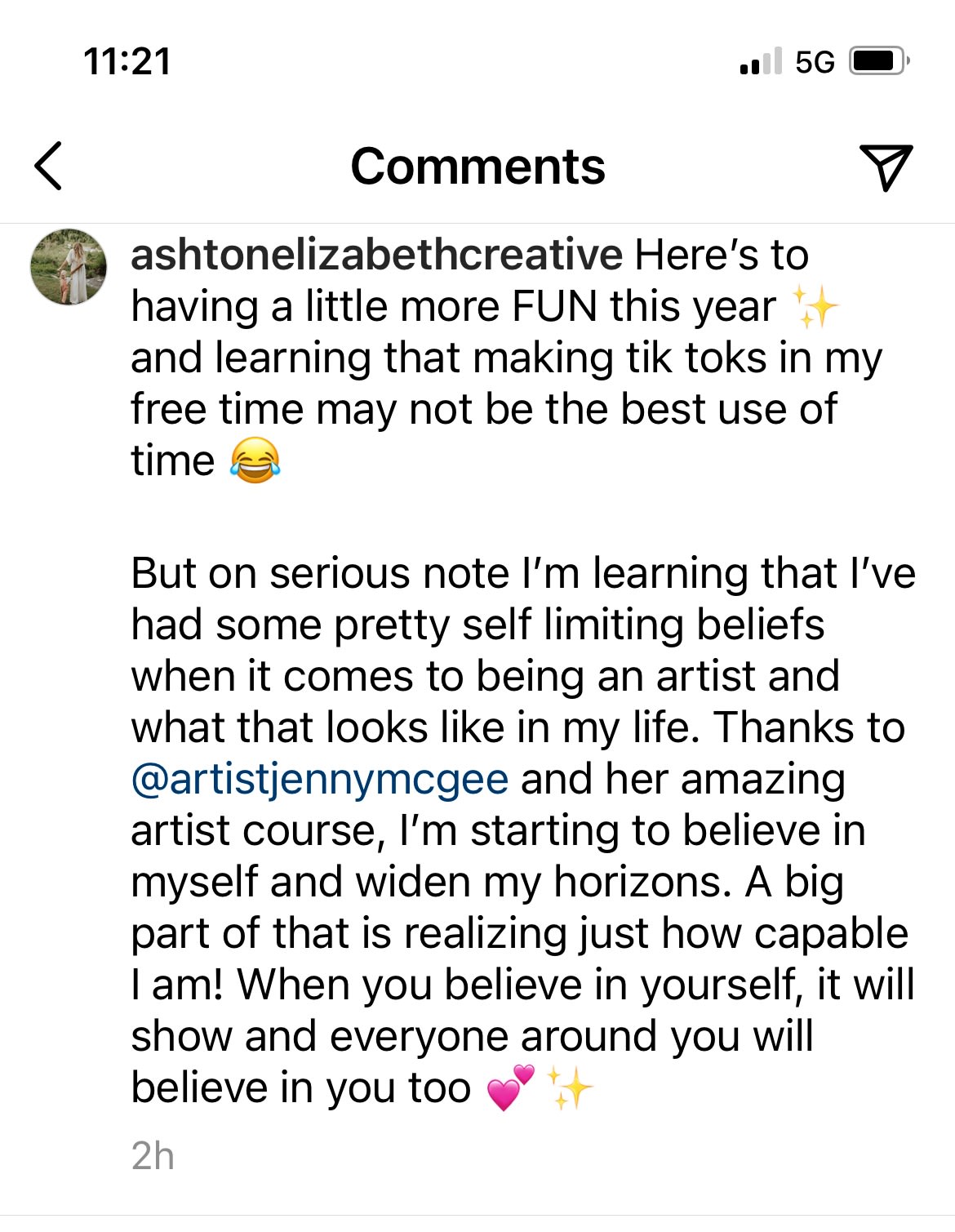 Hannah. - artist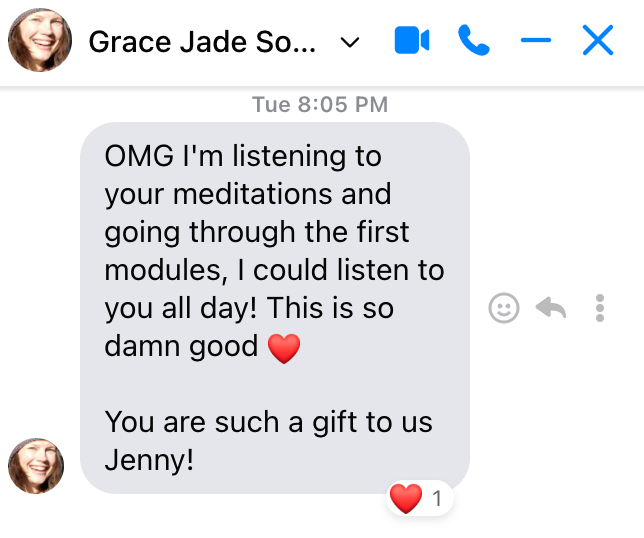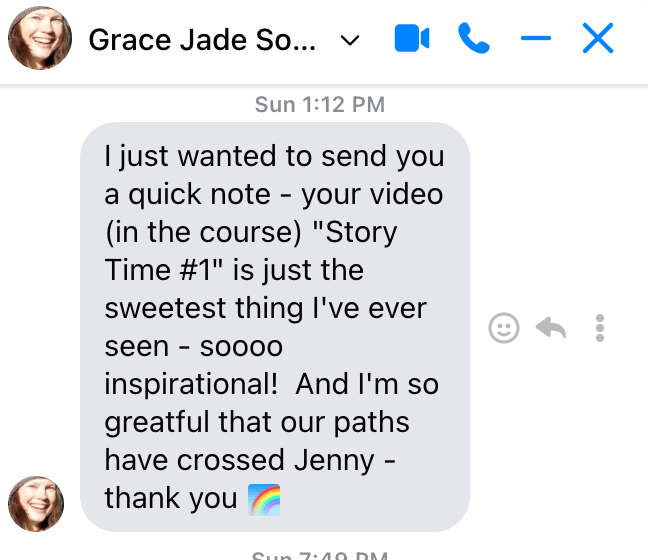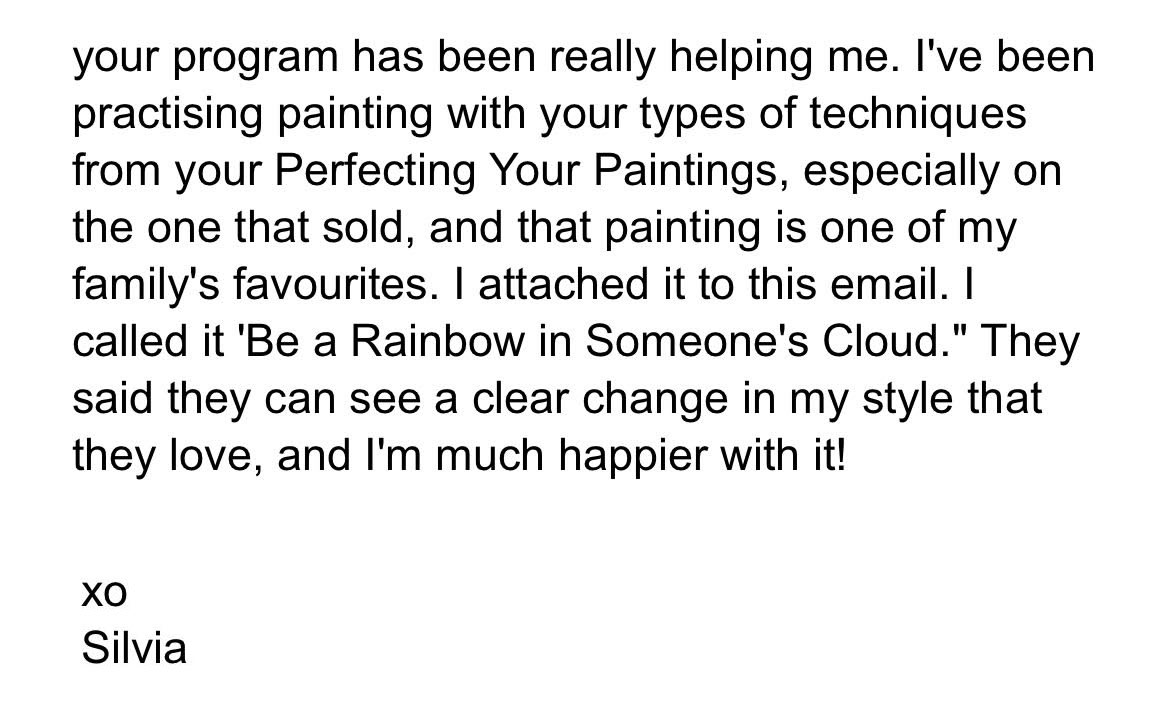 HERE'S HOw IT WORKS
• As soon as you sign up here you can start binge-watching all the content and implementing to start getting results right away!
• You'll immediately get an email with your login info and a link to access all of the course materials.
• You'll have access to Jenny via Email, Facebook messenger, or Instagram DM where you can ask questions and be fully supported as you go.

YOU
HAVE

PERMISSIoN
To want to make a lot of money in your art business.
To want to be a successful artist.
To want to be your own boss and live by your own rules.
Yes, even if you didn't go to some fancy art school! (Don't worry, I didn't either!)
I am handing you the exact steps to follow and supporting you along the way with all my resources, templates, and tools.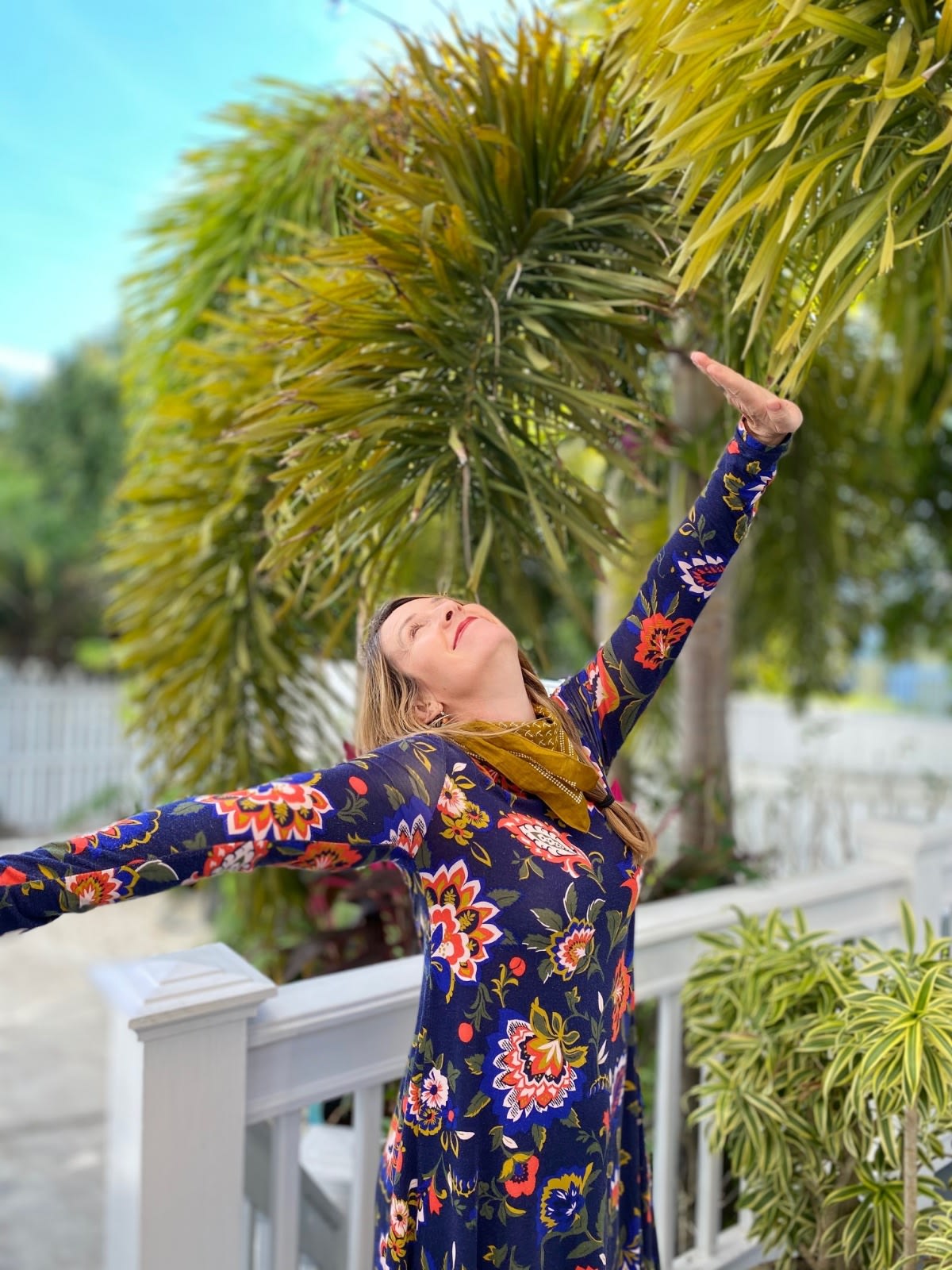 WHAT YOU WILL LEARN INSIDE OF THE PROFITABLE ARTIST ACADEMY
MODULE 01
Profitable Inner Artist Mindset
Move past the fears holding you back in your art business.
Reconnect to your purpose and creativity as an artist.
Create unshakeable confidence with your artwork.
.
MODULE 02
Profitable Money Mindset
Transform your money mindset to generate the ability to sell your art like a boss.
Reset your pricing mindset to bring in the best paying clients who value your art.
Boost your confidence in how you price your art.
.
MODULE 03
Show Me The Money Plan
Uncover what sets your art apart from the crowd and makes it unique.
Understand and communicate your value easily and effectively.
Nail down your pricing and map out your 1-page business plan.
.
MODULE 04
Show Me The Marketing Plan
Find your ideal clients who are excited to pay your prices for your art.
Get the tools, scripts, and contact strategies to sell your art with ease.
Discover the perfect way to market yourself to galleries, agents, and i.deal clients.
.
MODULE 05
Perfecting Your Paintings
Prepare your paintings to make sure they are high ticket sale ready.
Up-level your art to stand out and have that "wow" factor.
Learn my exclusive painting technique and why it sells like crazy.
ALL THE EXTRAS
Contract for commissioned art.
6 bonus tips for even more slaes.
Client sales contracts to protect your art and your business.
Email scripts for reaching out to clients and landing sales.
Direct access to the Licensing Companies I use in my own art business.
PAY IN FULL
Lifetime Access to 5 module course
Implementation Worksheets and Journaling Prompts
Connection and Support

Sales Scripts
BONUSES
Client Sales Contract Template
Email Templates
Money Miracles EFT Tapping Sessions
Total Value $18,850

ONLY $1597 - YOU GAIN ACCESS to everything IMMEDIATELY!
PAYMENT PLAN
Lifetime Access to 5 module course
Implementation Worksheets and Journaling Prompts
Connection and Support
Sales Scripts
BONUSES
Client Sales Contract Template
Email Templates
Money Miracles EFT Tapping Sessions
Total Value $18,850
GET STARTED AS LOW AS $277 - x 6 - YOU GAIN ACCESS TO EVERYTHING IMMEDIATELY!
YOU ARE THE PERFECT FIT TO JOIN IF...
• you've sold your paintings for a little while now and it is your dream to have your own studio and don't even know where to start.
• You are ready to lock in and deposit income after booking a commissioned painting.
• You know with confidence that you have the perfect skills, talent and are willing to serve your ideal clients with your art and in your unique way.
• you spend forever on social media and for those introverts out there it is exhausting and don't have a strategy.
• You are ready to know exactly how to find your ideal clients, talk with them and discover exactly the steps to close a painting sale with them.
• You are ready to go big or go home. You are done with having a skill and not monetizing it. You are looking and staring at all these other artists making money and wondering how? Maybe you are a fighter and have something to prove to yourself or your family that you can freaking do it!
Q n A's
DO YOU SELL ANYTHING ELSE IN YOUR COURSE THAT I WILL NEED?
No. There is nothing else you will need to start making sales. This is a one-and-done course to get you selling your art as soon as you implement the lessons.
WHEN DOES THE COURSE BEGIN?
The course begins as soon as you enroll. You will have Lifetime Access to the 5 Module Course plus bonuses immediately!

DO YOU OFFER REFUNDS?

Due to the digital nature and all the support, and time invested in this program refunds are not offered for this course.
WHAT IF I HAVE NEVER SOLD A PAINTING BEFORE?

Then this is the perfect fit for you. You don't need to have any experience coming into this course. All the resources you need will get you on your way to selling your first painting in no time. This course will help you fast track your art career so you can be a profitable artist..
WHAT IF I DID NOT GO TO ART SCHOOL?

Then this is the perfect fit for you! All you need to have is a passion for painting and drive to share your art with others.
I'M ALREADY SO BUSY AND OVERWHELMED, WHAT IF I DON'T HAVE TIME TO DO THE COURSE
I've designed this course so that you can pop in headphones and listen to the modules from literally anywhere….on your way home from dropping the kids off at school, while making dinner, while folding laundry, while grocery shopping, while working out, etc.! And, each implementation guide takes no more than 20 minutes to complete.You have this course for life so there is no such thing as "falling behind". You can take this course completely at your own pace!

I DON'T THINK I CAN AFFORD THIS...
I know exactly how you feel. When I made my first ever investment into a course I was literally freaking out about it. But I have learned that the fastest way to get results is to invest in your growth and learn how it is done from the people who have achieved what you want to achieve!

It's all about making decisions based on where you want to be, not where you currently are. It's about investing in things that will have limitless returns.

The investment for this program is $2.70 a day for one year.

Is your dream of becoming a profitable artist making bank worth that? Heck yeah, it is!

DO YOU OFFER PAYMENT PLANS?

Yes! I love payment plans! There is a 3-month payment plan for this course. I fully believe in helping and supporting you making sure you have access to this life-changing content any way I can for you. You can get started for just $349!
PLEASE REACH OUT TO JENNYMCGEEART@GMAIL.COM IF YOU HAVE ANY OTHER QUESTIONS!
Let's do this together!
I can't wait to help you experience the joy of selling your art with ease and making bank in your business.
TIME TO PAINT YOUR NEW REALITY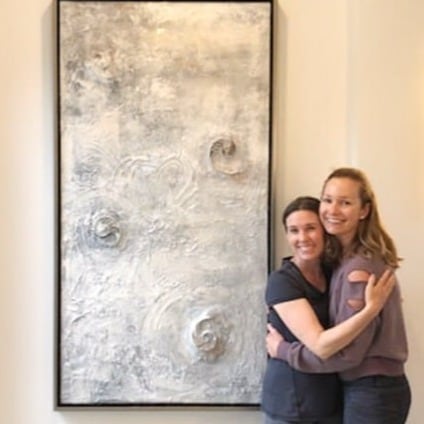 Setting the prices you desire and having clients being so excited to pay for your art with joy and appreciation.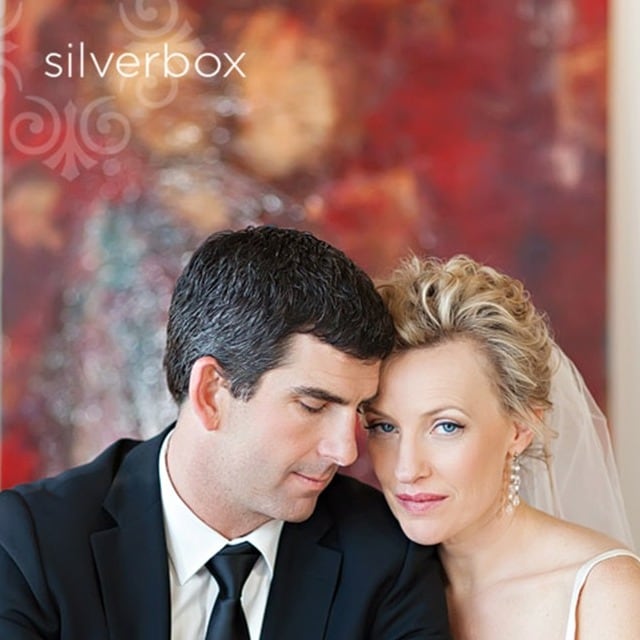 Knowing with confidence that you have the perfect skills, talent, and tools to serve your ideal clients.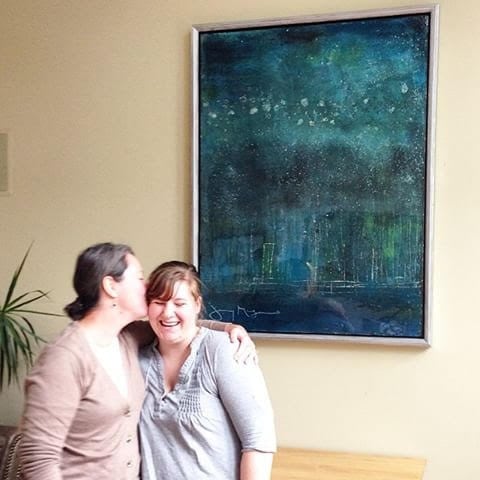 Locking and depositing income after booking a commissioned painting.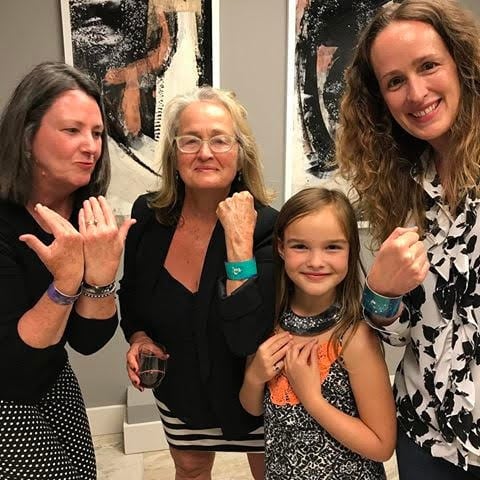 Selling with ease because you know your art is making a positive difference in someone's life.

THE PROFITABLE PAINTING ACADEMY.
(Open Now!)
i can't wait to help you create the sales you and your art deserve so that you can start having the freedom that belongs to you.
Click Me