profitable artist academy. HELPING YOU MAKE BANK WITH YOUR ART.
THE 5 MODULE COURSE FOR PAINTERS WHO ARE READY TO INCREASE CONFIDENCE, BOOST ART SALES AND KNOW HOW TO GET FROM HERE TO THERE!
CONFIDENCE + PLAN + ACTION = PROFIT.
What does becoming your most confident self and a successfull artist in the art world look like to YOU?
What magic does it embody?
Selling your artwork with ease and confidence every month, knowing what steps to take, getting commissions every single month, feeling a path forward, being asked to share your story and be interviewed...or how about making enough income to replace the other hustles you have going on?
PROFITABLE ARTIST ACADEMY
It is possible for you too, Dear Artist! And you don't have to wait until you go to art school or until you "earn" it. It's yours right NOW with the help of my brand new course....
LET ME KNOW IF ANY OF THIS SOUNDS TOO FAMILIAR...
You are down on yourself and not exactly sure what makes your art stand out from all the other art out there. You feel a bit lost in the crowd and not sure how to show up in the art world.
Maybe you have had some success in your art business but overwhelmed and stuck on where to take the next action step. Maybe you don't have much support from your family or friends. They just don't get it.
Or maybe you are where I used to be feeling stressed about how to price it, how to sell and show up with THAT solid self-confidence and just not sure how to get from here to there.
IT DOES NOT HAVE TO BE THIS HARD I PROMISE.
• LETTING GO OF THE LIMITING BELIEFS & COMPARISON AND BEING THE BEST ARTIST YOU CAN BE USING YOUR GOD GIVEN GIFTS.

• SELLING YOUR ART WITH CONFIDENCE AND FEARLESSNESS AT THE PRICE POINT YOU REQUEST.
• WAKING UP TO PAINT FOR THE BEST CLIENTS WHO PAY YOU TO CREATE YOUR INCREDIBLE ART FOR THEIR WALLS.
• KNOWING WHAT YOUR NEXT STEPS ARE TO SELL YOUR WORK.
THIS MAY NOT BE YOUR REALITY QUITE YET....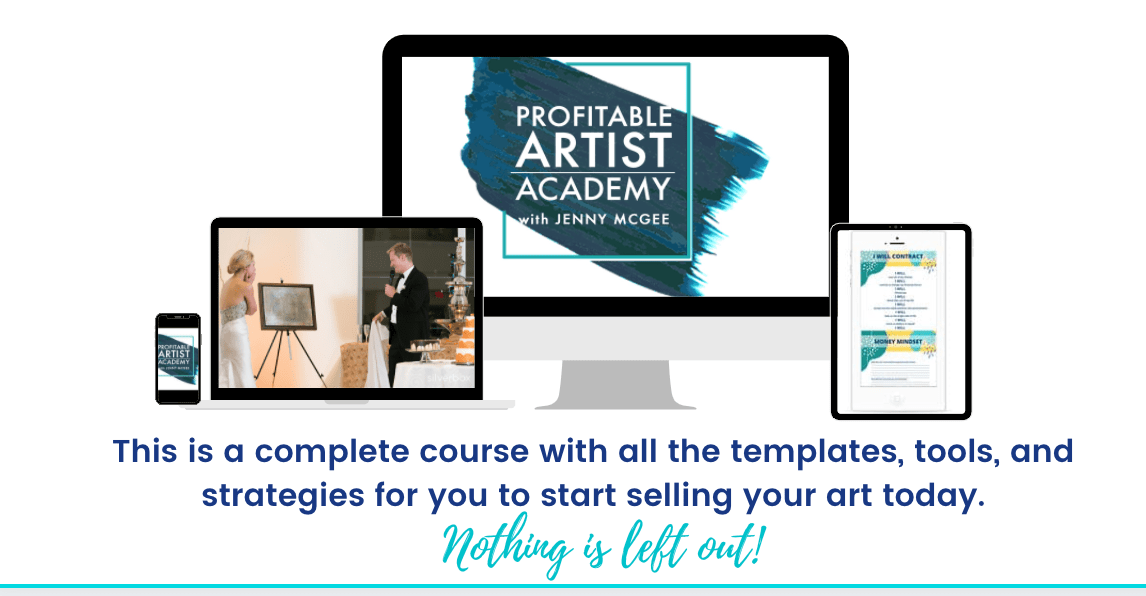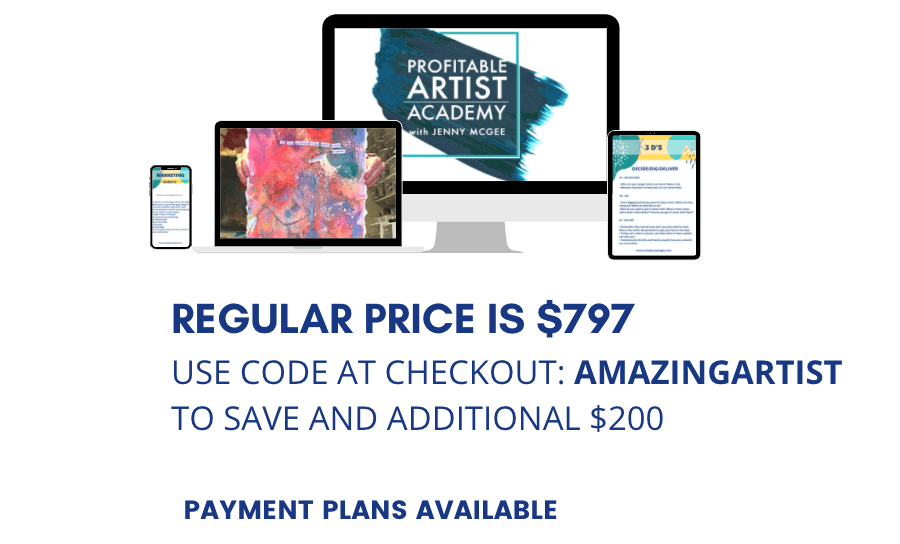 •
5 Value-packed modules that will be released available NOW.
($5000 value)

•

High-quality worksheets, sales scripts, mindset journaling prompts, and the letter that landed me my first $10,000 painting sale.
($10,000 value)
Guided audios to reprogram limiting beliefs and negative thought patterns.

($500 value)

Money goals and how to stay on track with your income goals

($100 value)

Journaling prompts to connect with your soul, emotions and to release what is no longer serving you, and stay on your path to integrate an emotional balance and healthy money mindset.

($100 value)

2 30-minute EFT (Emotional Freedom Technique) Money Miracles tapping sessions - recorded to tap at any time!$150 value)
How to Prepare your paintings to make them sale-ready.




Making sure your paintings stand out, look professional, and have that wow factor.
An unveiling of my painting technique that sells like crazy. ♡

$2000 value)
Client sales contract template

Word for word Outreach and Follow up email Sequence


$1000 value)
THAT IS WHY I CREATED THIS COURSE...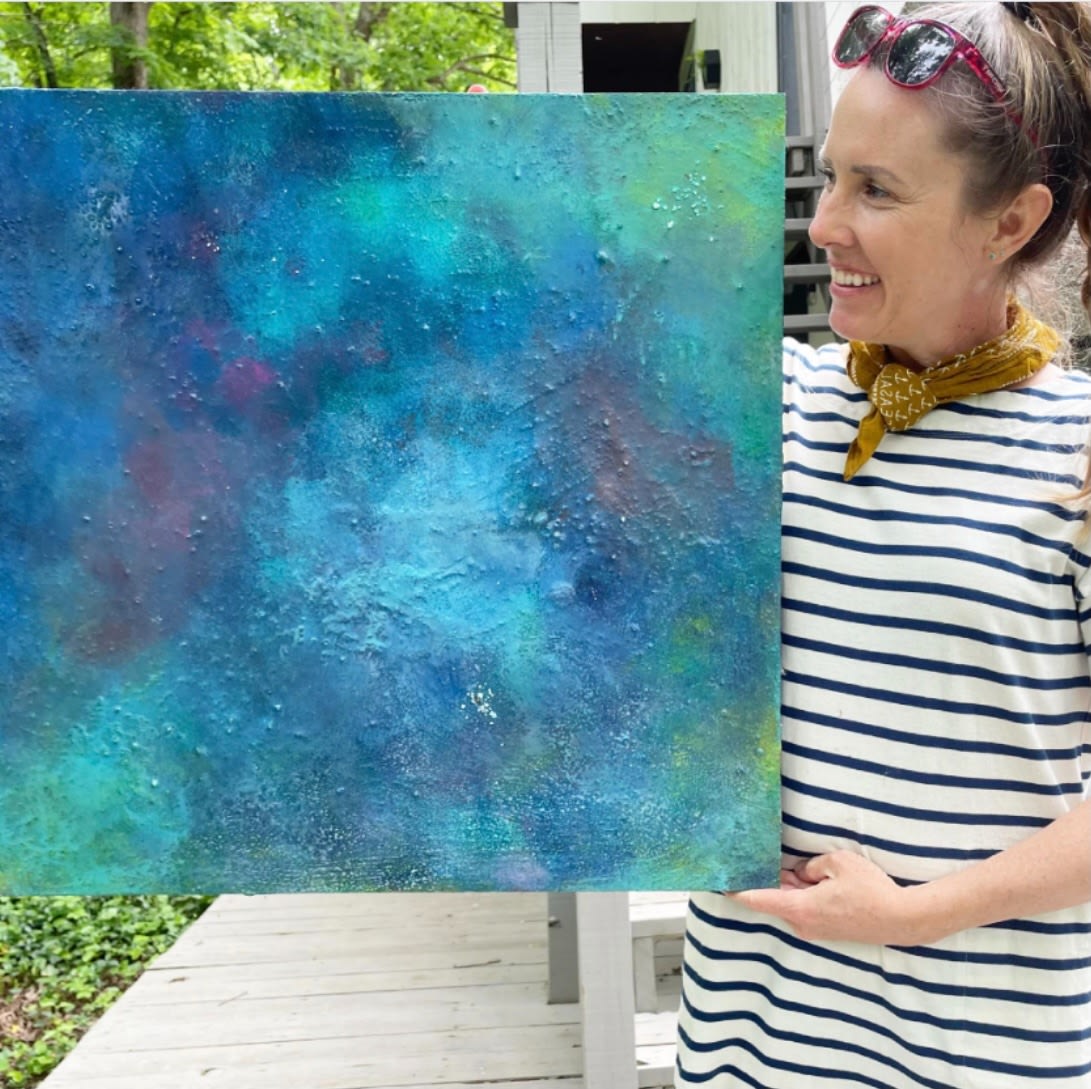 I am a painter helping other painters create profit from their artwork so they can have more consistent sales. If you are feeling stuck not knowing what the next step is or feeling low in confidence, I want to help!
Rewind as I was striving to live an artist's dream…
I was also raising two little cubs, balancing how to single parent while my husband traveled for his job, and living in a foreign country. In addition, I was diagnosed with stage 3 breast cancer.. WHOA, it was a crazy wake-up call for me. I didn't know if I had a tomorrow so I had to take action immediately.
Fast forward to today...

• I worked hard on my inner-self. My mindset has incredibly improved from where it was. • I am fully booked with commissions for 6 months. • I have reached over 100k in my business. • I paint and sell with not much inventory to hassle with and store. • And I am a healthier person than I have ever been.
Not only did I invest in my mindset health, and committed to doing work on my inner self-confidence and mindset...I started wearing my business boss hat with more confidence, painting consistently, and applying a framework to my workflow.
After reaching my dream income and seeing such huge shifts in my life and art business....I knew I had to share everything I know with you!
Student love...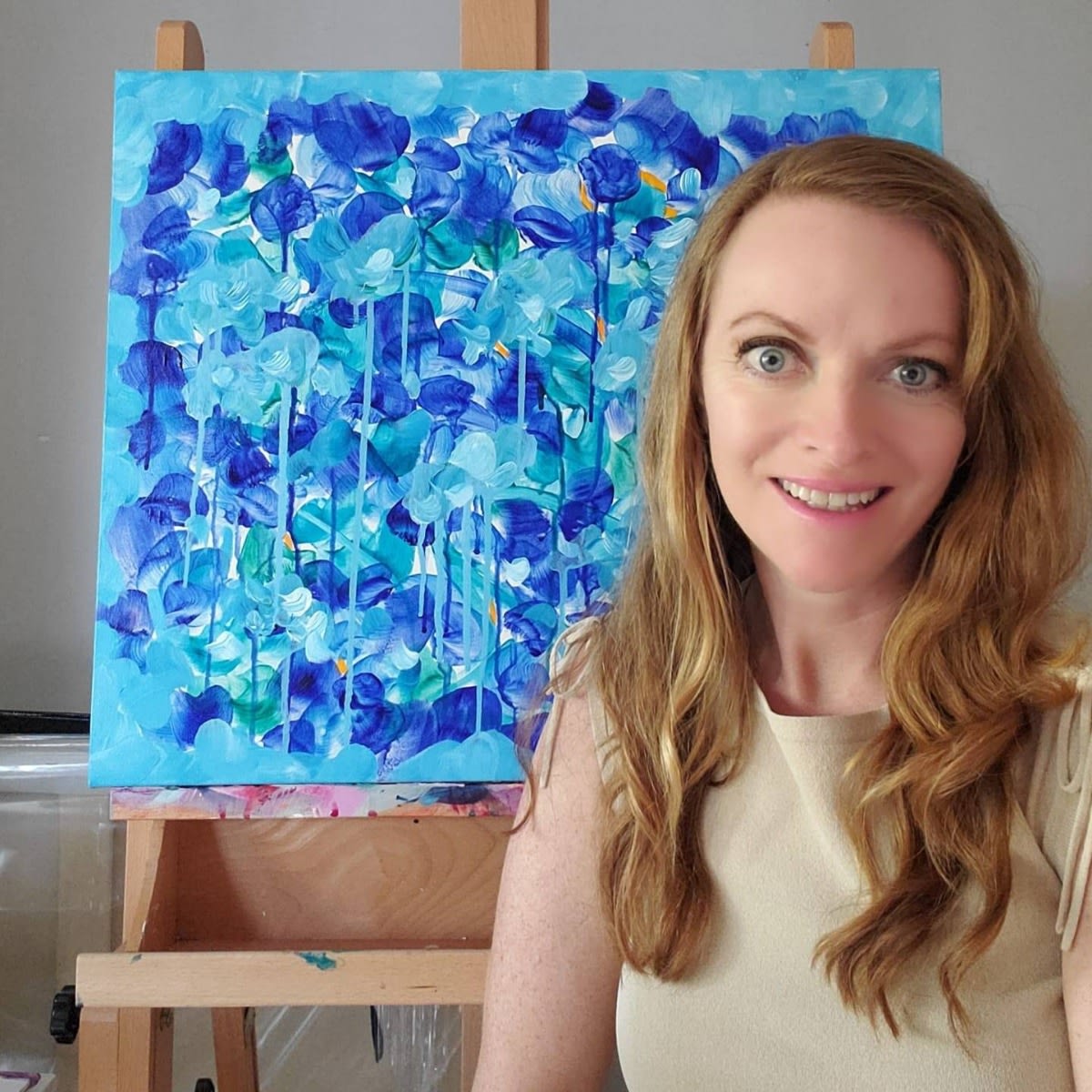 I found Jenny's course amazing and so unique compared to other art business courses I've taken. It offers so many effective tools for building a successful art business that most artists aren't even aware of, and they go beyond the outdated lessons we are taught still today. I haven't taken any courses like it. I feel like I have a big juicy secret. I'm very satisfied with the course and so glad I found it! It's the perfect blend of mindset work for someone super sensitive and insecure about selling their art like I am, and more formal marketing lessons. I try not to buy every program I come across, but I felt Jenny's could offer something more that was missing, some unique mindset and marketing approaches.
Silvia K - artist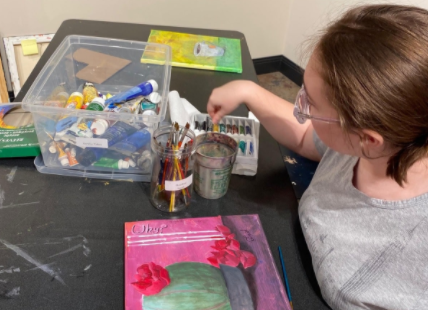 Jenny McGee immediately put me at ease with her welcoming and knowledgeable personality. She is extremely experienced and has helped my confidence grow and my art career develop.
Hannah C. - artist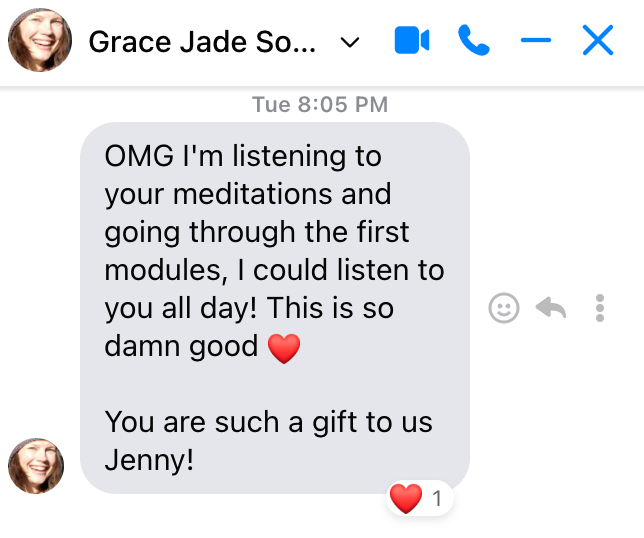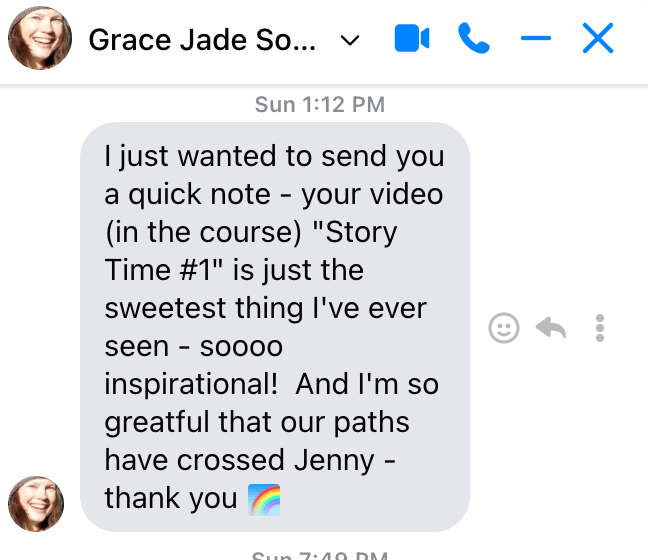 This is how we do it...
HOw IT WORKS
• As soon as you sign up you can start binge-watching all the content and implementing.
• Everything is available as soon as you enroll HERE.
• You'll have access to Jenny via Facebook messenger or Instagram DM where you can ask questions + be supported as you cross the finish line.
• You'll immediately get an email with your login info and a link to access the course materials.•
• Log into the course and you have instant access to all of the video trainings, implementation guides and bonuses so you can start getting results right away!
amazing artist
YOU
HAVE ALL THE

PERMISSION

IN THE WORLD!
To want more freedom!
To be a successful artist!
To be the best and most confident version of yourself!
To bring in a s••• ton of money with your art!
To be your own boss and live by your rules!
I am handing you the strategic roadmap and supporting you along the way with all my resources, templates, and tools.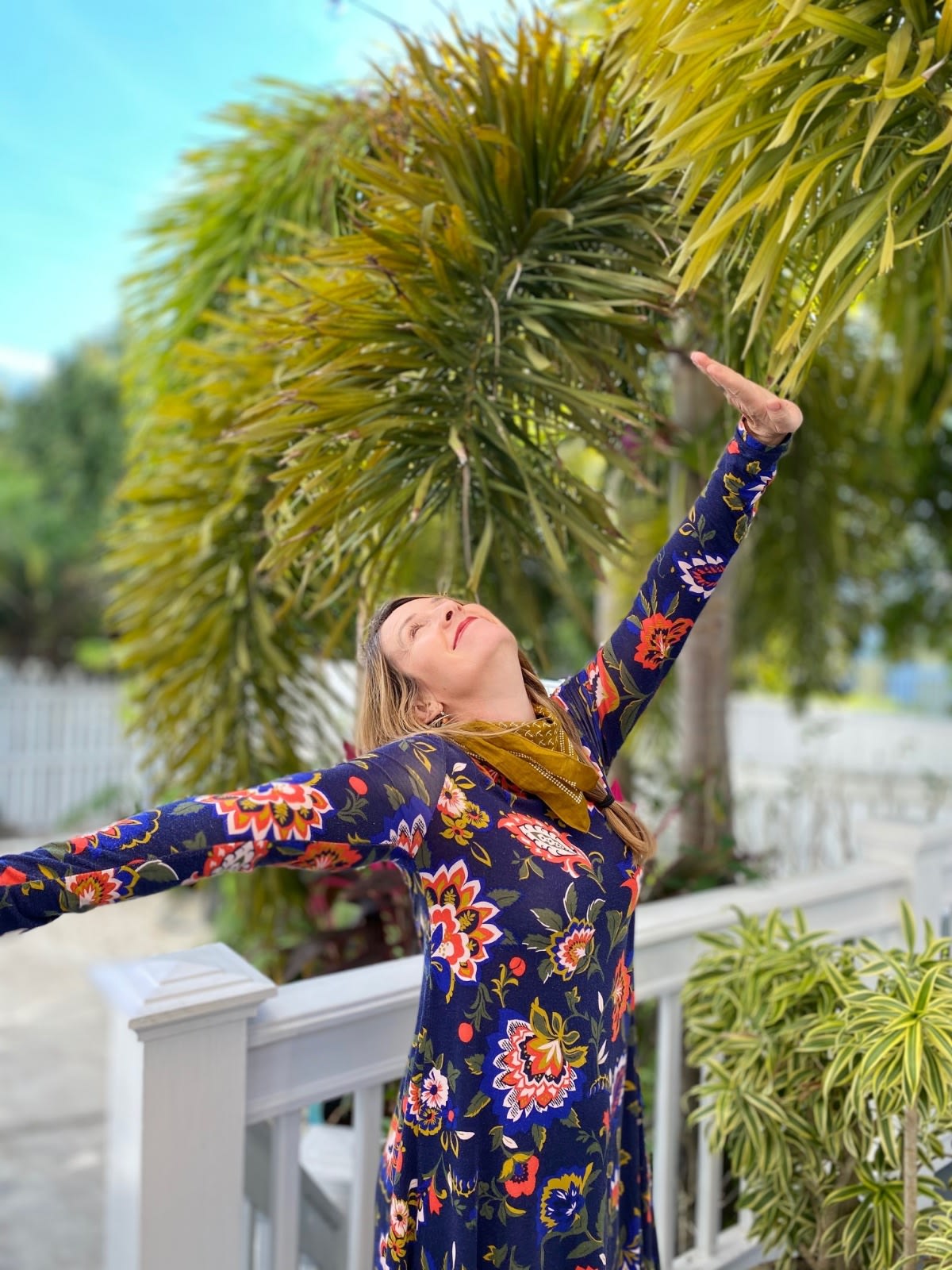 WHAT YOU WILL LEARN IN THE PROFITABLE ARTIST ACADEMY
is a self paced - 5 module - course
Using my one-of-a-kind structure, this value-packed program shares everything I have learned the past 15 years in my art business and focuses on the mindset, strategies that will get you selling art like a boss.
By the end of this course, you will not only feel like the confident artist I know you can be, but you will also be strategically showing up that way too. You will know what and how to communicate in your posts, sales, and how to maintain solid confidence selling your art.
WAIT JUST A SEC!? HOW DO I KNOW THIS REALLY FOR ME?
So glad you asked! Many artists think they need a million different techniques, training, awards, accolades, art school, business school to sell their art and make a profit. But what they don't realize is that most of the time, they are simply lacking simple selling, marketing strategies, and confidence.
YOU ARE THE PERFECT FIT TO JOIN IF:
• You are ready to sell your art or already an intermediate painter ready to be setting the prices you desire and having your clients being so excited to pay for your art with joy and appreciation.
• You are ready to lock in and deposit income after booking a commissioned painting
• You know with confidence that you have the perfect skills, talent and are willing to serve your ideal clients with your art and in your unique way.
• You want to know that your art is making a positive difference in someone's life.
• You are ready to know exactly how to find your ideal clients, talk with them and discover exactly the steps to close a painting sale with them.
• You are ready to go big or go home. You are done with having a skill and not monetizing it. You are looking and staring at all these other artists making money and wondering how? Maybe you are a fighter and have something to prove to yourself or your family that you can freaking do it!
A few signs you are currently stuck in the muck.
• Your email list or following is growing but crickets on the sales.
• You are not sure how to be strategic with your week or month
• You want to be your own boss and live by your rules.
• Money intimidates the crap out of you.
• Have no idea where to focus on sales.

• You say to yourself, "I didn't go to art school and I'm not in a gallery" I feel like a fraud".
It's sooo okay! I have been there. It does not have to stay that way for long. With a few mini shifts at a time you will have BIG changes and improvements. How you think about your art, your story, the uniqueness and value that you offer will all come alive.


I want you to ask yourself...Is it time to get started living your artist dream?


I am confident that if you do this you can make more than a living, you will get ahead of all the other artists painfully waiting on galleries to sell their work.


If you don't know how to

reach out

to people, I have the email templates for you.


If you don't know how to

protect

your work, I have the contracts for you.


I want you to

stop

being burnt out and exhausted.


In this course, I teach you every

step by step

process that I took to build my art business. It will save you headaches and help you get there faster. It is not going to take you decades like it took me and I am giving you the

fast track

to get you in the position of being a

profitable artist.


I literally hand it

all over to you on a silver platter.


If you are committed to change your mindset, follow an easier path, have guidance with you at all times then I would suggest jumping into this course immediately!

.
LET'S PAINT YOUR REALITY



I AM LITERALLY SQUEALING OUT LOUD WITH EXCITEMENT FOR YOU RIGHT NOW. YOU ARE WORTHY OF ALL THE FREEDOM AND MONEY FOR YOUR ART.
I AM LITERALLY HANDING YOU ALL OF THE TOOLS, RESOURCES AND STEP BY STEP "HOW TO" PROCESSES YOU NEED TO GET TO THE NEXT LEVEL IN YOUR ART AND FINANCIAL SUCCESS INSIDE THIS COURSE!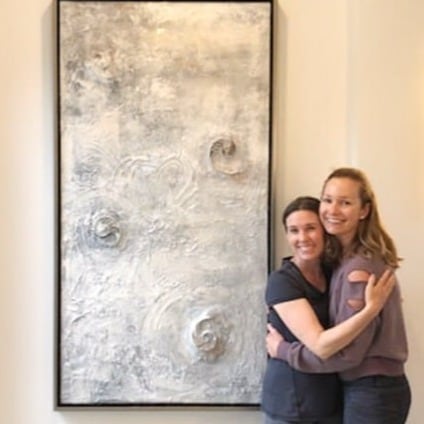 Setting the prices you desire and having clients being so excited to pay for your art with joy and appreciation.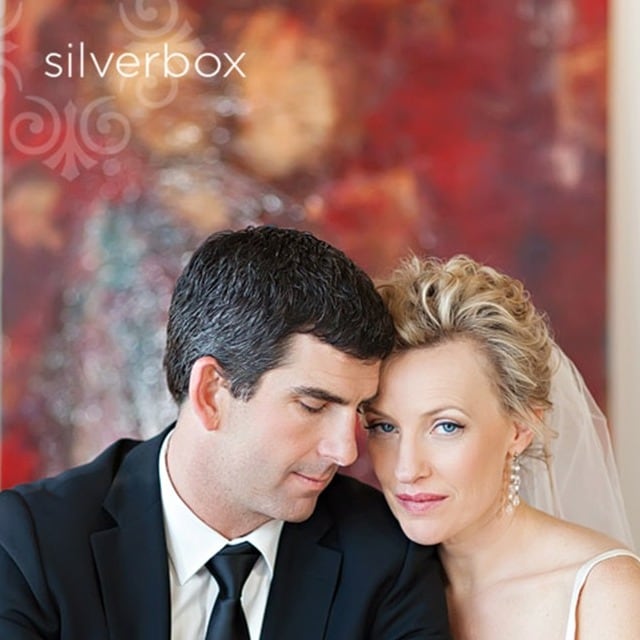 Knowing with confidence that you have the perfect skills, talent and tools to serve your ideal clients.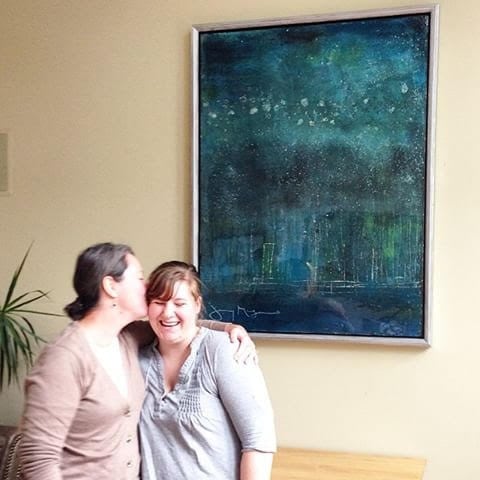 Locking and depositing income after booking a commissioned painting.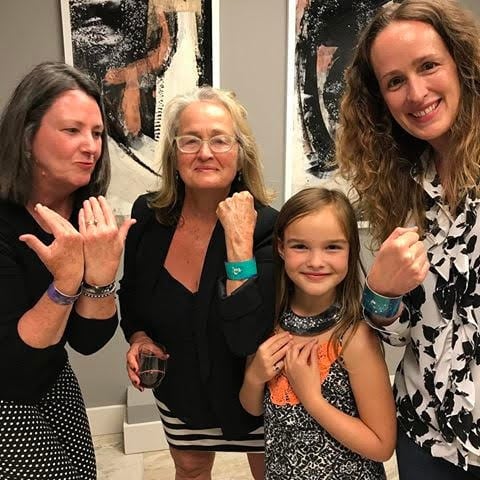 Selling with ease because you know your art is making a positive difference in someone's life.

TAKE A LOOK AT WHAT IS ON THE INSIDE OF YOUR PROFITABLE PAINTING ACADEMY.
(Open Now!)
Profitable 6 Figure Artist:

Inner Artist Mindset
•
Creating powerful personal affirmations to move past fears holding you back and create financial freedom
•
Morning, noon, and night mindset re-framing meditations.

• Reconnecting to your purpose and creativity through journal prompts
• Emotional Freedom Technique Tapping recordings and how to tap into your inner artist for creative inspiration
• Emotional Freedom Technique Tapping recordings and how to tap into your inner artist for creative inspiration
YOU GET LESSONS ON:
- Breaking Belief Barriers
- Affirmation Creation
- Emotional Freedom Technique tapping session on increasing self-trust
- Writing Prompts to increase your self-confidence
- A 20+ page Emotion Release Journal
- The Daily 5 Habits Template
By the end of Module 1, you will be effortlessly creating the confidence and belief that you are a powerful artist that is worthy of standing out in the art industry. I provide you with journal prompts, video guides, and scripts to open yourself up for success that includes affirmations, I share about eft, a proven mindset strategy that I have found extremely helpful.
MODULE 2
Profitable Artist Money Mindset


Transforming your money mindset to build the confidence & ability to sell your art like a boss.


Resetting your pricing mindset to bring in the best paying clients who value your art.


Boosting your pricing confidence with money breakthroughs.

YOU GET:

The I WILL Self Contract

Healthy Money Mindset Steps Template

Inspiration Prompts

Money Planner

Money Mindset hypnosis/meditation

Decide.Dig.Delivery Mindset Method for finding your ideal clients

Emotional Freedom Technique tapping session on Increasing Money Confidence

Defining your Unique Value Guide

Clarifying Your Desires Template
By the end of Module 2, you will be breaking through your income blocks to stand true to your prices and charge the value of your art -- your clients will experience the joy & transformations with your art while paying your premium prices. I include tools and exercises that help you address obstacles that might pop up and exercises that help provide clarity on your vision and purpose and how your art can serve others.
MODULE 3
Show Me The Money Plan
Processing and uncovering what sets your art apart and makes it unique.

Communicating your value and getting it down and knowing the best way to sell your art.

Mapping out your 1 page Biz plan and figuring out your pricing

.
YOU GET:

Exact word for word 10K Letter: My step-by-step process selling 10k paintings.
Why.Who.What.When Template
The HOW and WHERE to find your ideal clients
1 Page Biz Plan
Pricing Calculations
Pathway to 100k Plan

By the end of Module 3, I teach you how to make money as an artist. You will be showing up with your unique purpose & special flair that makes you different from other artists while merging it with your clients' needs and sharing that messaging powerfully -- without a one-size-fits-all plan. I walk you through a plan of action, with specific and attainable steps.

MODULE 4
Show Me The Marketing Plan
Discovering your ideal clients who are excited to pay your prices.

Unveiling the secret tools, sales ideas, scripts, and contact strategies.


Marketing yourself to galleries, agents, and your ideal clients.

Scaling your art business with different streams of income.

YOU GET:

List and Links to all my Art Biz Tools

Pricing Your Art

Pathway to find your Ideal clients

Marketing Your Logo and Website Strategies

Website essential tips

Money and Marketing Meditation

Your Biz Non-Negotiables Worksheet

Scaling Your Biz Tips

Video and strategies with a digital marketing expert

6 Reasons They Are Not Buying

How to build relationships with your ideal clients to bring in sales.
By the end of Module 4, you will know exactly how to market yourself and share your art with your unique network, and you will never have to wonder what your next step needs to be for sales. NO more deer in the headlights….You CAN be a profitable artist! I provide you with business growth tools and these are programs that I have used or still use. I review potential streams of income ideas so you can stretch yourself in your art career….for example I have been working on this course for years and it isn't until now that I decided it's the perfect time to add this to my business. I include pricing strategies, checklists, and ways you can really build respect for yourself and your art. I have sample letters and scripts that help you create outreach to galleries, corporate and potential clients. All of it is printable or downloadable. You will have a luxury experience receiving the exact roadmap of a 6 figure artist laid out and handed over to you with the word-for-word scripts, the training and so much of my support.
MODULE 5
Perfecting Your Paintings
Preparing your paintings to make sure they are sale-ready.
Making sure your paintings stand out, look professional, and have that wow factor.
Unveiling my painting technique and why it sells like crazy.
By the end of Module 5, you will get an inside peek at my personal painting process, how I create my abstract paintings and we cover how to perfect your paintings so that you put your best canvas forward. This is one of my best-kept secrets and the special sauce to my paintings. I will only reveal this in my course.
BONUS MODULE
• Contract for Commissioned Art
• 6 bonus Tips to More Sales
• Extra digital marketing advice
• Client sales contracts to PROTECT your art and business….and my EXCAT email SCRIPTS for reaching out to clients and landing sales.
• DIRECT CONTACTS to the licensing companies I use if you are interested in licensing your art.
$997
BEST VALUE PLAN
1X PAyment


1x Payment of $997 - You gain access
immediately!
$175
FLEX PAYMENT PLAN
6 X Payment


6 x Payment of $175 - You gain access
immediately.
Q n A's
DO YOU SELL ANYTHING ELSE IN YOUR COURSE THAT I WILL NEED?
No. There is nothing else you will need to start making sales. This is a one-and-done course to get you selling your art as soon as you implement the lessons.
WHEN DOES THE COURSE BEGIN?
The course begins as soon as you enroll. You will have Lifetime Access to the 5 Module Course plus bonuses immediatey!

DO YOU OFFER REFUNDS?

Due to the digital nature and all the support, and time invested in this program refunds are not offered for this course.
WHAT IF I HAVE NEVER SOLD A PAINTING BEFORE?

Then this is the perfect fit for you. You don't need to have any experience coming into this course. Jenny's resources will get you on your way to selling your first painting in no time. Keep in mind that you need to put in the work. This is not a get-rich scheme. It is a course that will help you fast track your art career so you can be a profitable artist..
WHAT IF I DID NOT GO TO ART SCHOOL?

Then this is the perfect fit for you. All you need to know is how to paint, that you love to paint, and have a passion to share your art with others.
I'M ALREADY SO BUSY AND OVERWHELMED, WHAT IF I DON'T HAVE TIME TO DO THE COURSE
I totally feel you on this because I have soooo been there! It's like, ugh, I already have so much on my plate and this is just going to be one more thing that I'll have to somehow try to make time for and that's going to stress me out!

Here's the thing…. I've designed this course so that you do not have to carve hours a day to sit down to do it. You can pop in headphones and listen to the modules from literally anywhere….on your way home from dropping the kids off at school, while making dinner, while folding laundry, while grocery shopping, while working out, etc.! And, the implementation guides take no more than 20 minutes to complete. I don't do fluffy busy-work because ain't nobody got time for that!

Plus, you have this content for life so there is no such thing as "falling behind". You can take this course completely at your own pace. My students usually love it so much that they go through it more than once! This course teaches you a ton about how to work smarter and make more money while doing less, so it will actually help you free up more of your time! Hell yes to that!

I DON'T THINK I CAN AFFORD THIS...
I know exactly how you feel. When I made my first ever investment into a course it was for $500 and I was literally freaking out (I was making less than $35K a year at the time so this felt like a lot of money!) Fast forward to 2020, I invested over $18,000 into coaches, and various programs that year. It's no coincidence that 2020 was one of my best years ever (financially and personally, despite a global pandemic).

What I have found is that the easiest and fastest way to get results is to invest in your growth and learn how it is done from the people who have achieved what you want to achieve!

It's all about making decisions based on where you want to be, not where you currently are. It's about investing in things that will have limitless returns.

The investment for this program is $2.70 a day for one year.

Is your dream of success, doing wht you love and freedom for you worth it? Heck yeah it is!

DO YOU OFFER PAYMENT PLANS?

Yes! I love payment plans! There is a 6 month payment plan for this course. I fully belive in helping and supporting you making sure you have acess to this life-changing conent any way I can for you.
PLEASE REACH OUT TO JENNYMCGEEART@GMAIL.COM IF YOU HAVE ANY OTHER QUESTIONS!
i can't wait to help you create the sales you and your art deserve so that you can start having the freedom you that belongs to you.
Click Me